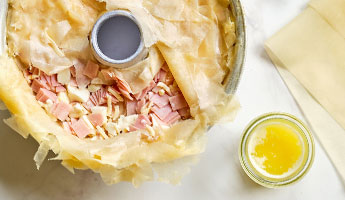 Pie with ham and cheese
Ingredients
For 6 people:
300 g ham Poli Hammy
300 g of Gouda cheese
300 g mozzarela
200 g feta cheese
100 g melted butter
500 g of drawn dough
3 eggs
250 g of milk
150 g of Greek yogurt
salt
pepper
Pie with ham and cheese
Preparation process
Cut the ham, gouda cheese and mozzarella into small pieces and pre-used. Add the diced feta cheese and take over again.
Grease a round shark pan with butter and cover with dough so that it covers the bottom and walls of the pan and expands beyond the edge of the pan. While coating the baking tray, grease the dough sheet with melted butter.
Add the filling and cover it with two sheets of dough. Repeat the process up to three times to get 3-4 layers of stuffing. Cover the top with a sheet over the edge.
In a bowl, first beat the eggs, then the milk and youghurt and beat until all the ingredients are combined. Add salt and pepper. Peirce the top of the pie several times with a knife and pour the prepared mixture over the pie. Bake the pie at 160 to 170 C for about 1 hour. Let cool slightly before serving.