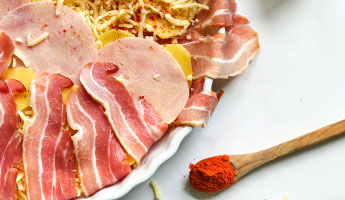 Coated potatoes baked in the oven with bacon, ham and cheese
Ingredients
For 4 people:
5 medium - sized potatoes
500 g grated mozzarella
300 g of bacon
400 g Poli Hammy in slices
salt
pepper
ground sweet pepper
baking oil
Coated potatoes baked in the oven with bacon, ham and cheese
Preparation process
Daniela Cimpoi, Romania
Grease a round baking pan. Place slices of bacon on top, starting in the middle, and cover the entire baking sheet, with slices of bacon extending well beyond the edge of the baking sheet on all sides.
Place a layer of potatoes on the bacon, peel it and cut into thin rings. Seson the potatoes with salt and pepper and add the ground paprika, grated cheese and slices of ham.
Repeat the process to get three layers of potatoes and cover the top with slices of bacon. Bake at 180 C for about 60 minutes.